Discussion Starter
·
#1
·
I'm pretty excited that I just resurrected a used Chauvet Hurricane 1250 that was suffering from the dreaded pump failure that seems to plague a lot of us. I just finished a second attempt at teardown and reassembly with pics and a bit of video. I just fired it up and voila, it's back from the dead.
Sorry about the size of the pics, but I wanted to be sure you could see them clearly (and I'm feeling a little too lazy to edit them).
Here's the video I uploaded to YouTube
I hope to get around to making some annotations...
Pics of the pump disassembled and going back together: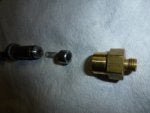 the brass sleeve here sits in an o-ring and can be pulled out and cleaned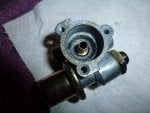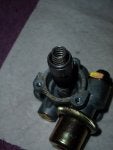 this cylinder is just pressed in, held, and sealed by an o-ring then the metal plate with three screw holds it down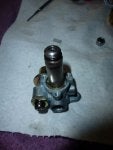 This spring and (what I think is) the check valve are held in place with the brass cap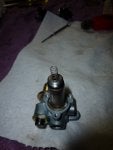 The metal plate with three screws needs to go on before the brass cap
Here the brass cap is on to show, but the solenoid, cover and washer need to go on first - then the brass cap holds them in place