Discussion Starter
·
#1
·
I took my first shot at a fog chiller yesterday. The cooler itself is small (maybe 32 quarts? not sure), but I had it kicking around and thought I'd give it a shot before I bought a larger unit.
I have a Chauvet 1000w chiller, and plan on using it in my graveyard - so I want to keep the fog as low as possible, otherwise it just seems to get in the way of my other lighting effects & props.
I was hoping i could get away with a smaller chiller, so I took some 3" aluminim dryer hose and I looped it around in an S shape within the cooler to try and get the fog to stay on longer. I know you can't see it well, but here's a shot with the cooler full of ice: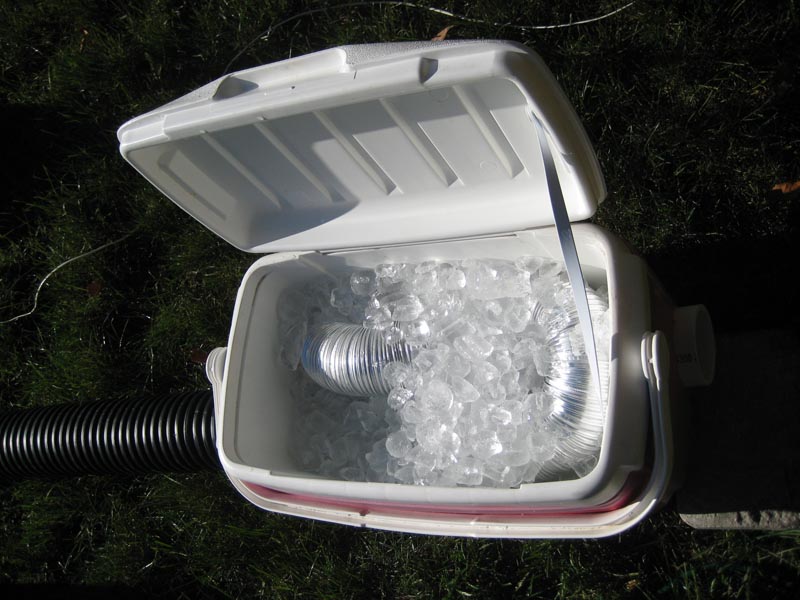 Like I said you can't see it well, but the hose is basically in an S shape within the cooler. In one side and out the other.
I filled it with ice last night, let it sit for a couple hours, then gave it a shot. The fog definitely seemed to stay lower than without the chiller, but still not nearly low enough for my taste and not nearly as low as some videos I've seen. Almost seems like some fog would stay low, but then other fog would rise right up.
I feel like I definitely need something more, but I'm not sure how to proceed. I've seen the trash barrel chillers, but wonder if they are overkill for my needs and my 1000w fogger, and I also wonder how well the fog goes through all that tubing!!
Anybody have any suggestions? Should I simply go with a larger cooler? Should I stick with the S shape inside? Should I skip the dryer hose and S shape and go with a wire mess host as pictured here intead?
Fog Machines - Your Guide to using Fog Machines for Halloween
Should I bite the bullet and go with a trash chiller? Or is that overkill for my fogger? How much ice is needed to fill one of those things? It seems crazy to go out and buy all that ice every night I want to run the show..
One other question - what's the trick to controlling the direction of fog? If the wind isn't blowing the right way, the fog simply flows away from my graveyard and is wasted. Are people placing their foggers in the middle of their graveyard, or is it more common to place them behind?
This is all new to me, so any suggestions are welcome.
Thanks!!