Discussion Starter
·
#1
·
Make & Take 2009 # 3

Our Attendance has been increasing and this M & T is looking to be one of the best ever!


M & T #2 was a Meet and Greet Camping Social Event, with no build. All, had a great time, enjoyed many new members and met each other's families along with exchanging a lot of cool ideas. NOW, we are anxious for a Prop BUILD!!!!!

FloridaHaunters have scheduled their third M & T of 2009.
(Membership not required – but advanced RSVP is required for non -
members. Event is in gated/keyed community and parking needs to
be arranged)

Location is: New Port Richey, Florida (west coast Tampa area)

Date: July 18th, 2009 (Saturday)

Time: We usually assemble around 10 ish (am) and go, until we want to stop or you have to leave.

Cost: Zero $ to attend.
You supply your own materials for the builds.
Building the prop is not required to attend.

The M & T #3 Build will be making an animated, moving tombstone.
Example:
http://usersites.horrorfind.com/home/halloween/spookdawg/openingtombstone.html
Brushe, Spyder, Dave in the Grave are lending ideas and suggestions for different
Variations and you can get these suggestions, ahead of time, by visiting the FloridaHaunters website.

As always: Show & Tell (bring props or ideas) to share (if your are so inclined.)
Tasty Beverages (BYOTB)
Covered Dish or munchies - welcomed (but not required)

Hostess for M & T #3: Maurreenpr

For more information and details go to: http://www.floridahaunters.com
and check out the links. Post on this thread.
Or contact by PM: Maureenpr
Ghostess
Cylonfrogqueen
On this, great, HalloweenForum.
Make & T # 2 Camping Social- even the kids were interested !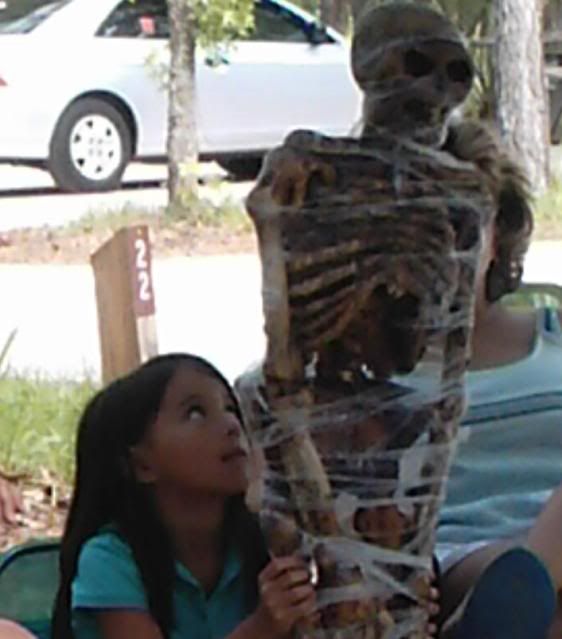 Photo : Spyder
This notice is subject to updates or revisions.
*** not Ghostess approved yet. (Fl. Haunter's inside joke)