Discussion Starter
·
#1
·
To try something different, I wanted to start building tombstones with larger bases, then eventually obelisks and bigger monuments. Last month I finished a large workbench in my garage just for Halloween projects, so I'm finally making some progress.
So I came across some styrofoam packing in my office that reminded me of a tombstone base, so I brought it home. I modified one of my carvers so it had a solid angle, since this piece had some external ribs I wanted to take off.
Here is the styrofoam's underside
and the front face, after carving off the ribs
I made a few small flame stencils from those ribs and outlined them on the front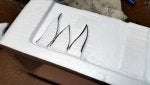 Then I carved them up. Haven't cleaned them up at all at this point.
Then found a color changing LED I rescued from the Dollar Tree and took this
I have a lot of cleanup to do, coring it out, and figuring out how to light it and secure the tombstone to it. I get this size/shape of styrofoam all the time, so I have some room to experiment. Should be fun, I just wanted to share.
Oh yeah, here's the finished workbench, sans tools. 30" deep by 72" long, 72" tall with an 18" shelf on bottom. I put down a thin layer of Masonite on the shelf and workspace. When it gets all jacked up looking, I unscrew it, flip it over and BAM! New surface.