Discussion Starter
•
#1
•
This is a journal/notes on trying to make a mold based on my right arm for zombies.
Step 1: Acquire all the things needed.
Alja-safe (3# ... but this was not enough, should have bought more)
Plaster of Paris (25#, used slightly less than half)
Tube or similar for holding the cast (made one from 24" wide shelf liner, duck tape, and a linoleum floor tile)
Rebound-25 silicone
Plasti-paste for outer shell
Mold Release
Urethane Foam (Foam-It4)
Flesh color tint for foam and assortment of other colors
Ure-coat (to paint arms and seal "wounds" I carve in foam flesh)
Plenty of buckets in different sizes
Stirring sticks and drill powered stir thing (blue disc with a shaft sticking up to put in a drill)
This is the container I made for the mold. I wanted something that would cover fingertips to mid-bicep, and allow enough room to bend my elbow a little.
Step 2: Follow instructions and make a small mold to get an idea of the feel of materials. I used a prescription bottle and copied my thumb.
Step 3: Assess learning so far:
If you don't have a timer nearby, you are forced to sing to keep track of time (most songs are 2-3 minutes, sing 5 songs while alginate sets). Get a timer or a clock to watch.
Wear comfortable shoes since you can't move. Standing on concrete in socks is not fun.
Be careful to leave a gap between your body part and the container.
Step 4: Create alginate form for the plaster casting. Very important to pre-plan how you will hold perfectly still for 10 min and not be uncomfortable. I did poorly at this. Also, if you do this alone be sure you can reach into the mold to help free your trapped arm!
Mix it with the blue stir stick on a drill.
It's a 1:1 mix by volume, so I measured the alja-safe first and added the same amount of water to a 5 gallon bucket. There was not a lot of Alja-Safe ... 3 pounds is roughly 3 gallons in volume. 3 gallons is not a lot of liquid
Pour mixed Alja-safe into the vessel (cue sad face when you see how little it is) and use target hand to scoop extra into vessel. That helps ensure the alja-safe has good contact with your skin and captures all the details.
Put hand/arm into container and wait required time. Carefully extract hand, this requires a lot of gentle wiggling to break the seal between the gel and your arm.
Step 5: Cast Plaster into Alginate mold (quickly)
Mix 2:1 by volume (clean off drill mixer thing, use a clean bucket). Should feel like thin pancake batter. I used 2 gallons plaster and 1 gallon water.
Pour some plaster in, tilt the mold and tap to release air bubbles.
I poured the extra in to act as a base because it seemed like a good idea.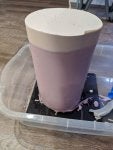 Step 6: Wait a few hours and unmold the sculpture
Use a Xacto blade or similar to score the alginate. Pull off chunks CAREFULLY. I was not careful enough.
Gleefully notice how much detail you captured. Mourn any fingers you snapped off.
After it was all cleaned off, I noticed odd bumpy spots on my plaster arm. They popped off easily with a fingernail.
I used TiteBond to glue my plaster fingers back on (thin the glue with water). Holding the finger for 30 sec seemed long enough.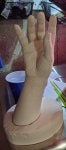 That's it for today. Tomorrow is time to fill the little holes in the plaster cast and make any touch-ups. Then let it dry awhile and start with the silicone mold and plasti-paste shell.