Discussion Starter
·
#1
·
Went up to the local Salvation Army store like I normally do once a week. It's a great place to find cheap prop supplies and never know what else I'll end up finding there. Ended up finding some good size rolls of white fabric among some bags of left over scraps and odd and ends. The fabric kind inspired me to work on a voodoo type doll slash something like Scrump (lilo and stitch).
The body progress
The face in progress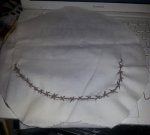 Body with lion cloth and tail added
The hardest part thus far has been the mouth. I never made something like this before so figuring out how to do the mouth took a bit of time. Not to mention that stuff I used wasn't the easiest to work with. Some yarn type twine I picked up at Sals a few weeks ago. Still on the cone, barely used for under 2 dollars. Thought it would come in handy at some point. Not to mention that my Shepherd was being such a helper with taking up most of the sofa where I was working and wanting to play and get belly rubs. Today, I'll be out looking for some buttons for eyes and some larger twine, maybe some yarn for some spiky hair.