Discussion Starter
·
#1
·
I got the Skyrim Necromancer costume done in 5 days. A day later the red contacts arrived and I finally did a test run on the Dunmer makeup for Halloween and took this.
I made some changes from the in game version. Most noteable I made this out of linen instead of leather, or rather skin. I also used glow in the dark paint for the skull even thoughit doesn't glow in game just because it's fun and this is primarily a Halloween costume.
Not sure I'll be able to do my hands on Halloween because I will have to do stuff but I'm sure I can find some leather gloves to wear.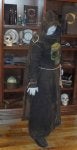 Refrence for those unfamiliar with this: