Discussion Starter
•
#241
•
Haunted object #1 from the Museum Arcana opening tomorrow night.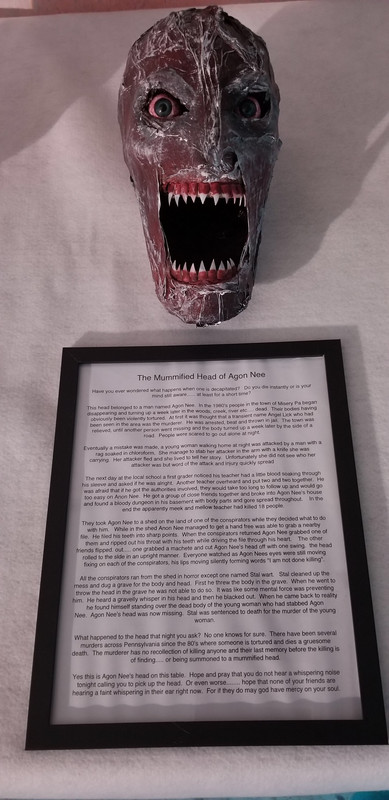 The decapitated head of Agon Nee
Have you ever wondered what happens when one is decapitated? Do you die instantly or is your mind still aware...... at least for a short time?
This head belonged to a man named Agon Nee. In the 1980's people in the town of Misery Pa began disapearing and turning up a week later in the woods, creek, river etc..... dead. Their bodies having obviously been violently torutured. At first it was thought that a transient name angel lick who had been seen in the area was the murderer. He was arrested, beat and thrown in jail. The town was relieved, until another person went missing and the body turned up a week later by the side of a road. People were scared to go out alone at night.
Eventually a mistake was made, a woman walking home at night was attacked by a man with a rag soaked in chloroform. She manage to stab her attacker in the arm with a knife she was carrying. Her attacker fled and she lived to tell her story. Unfortunately she did not see who her attacker was but word of the attack and injury quickly spread
The next day at the local school a first grader noticed his teacher had a little blood soaking through his sleeve and asked if he was alright. another teacher overheard and put two and two together. He was afraid that if he got the authorities involved, they would take to long to follow up and would go too easy on Agon Nee. He got a group of close friends together and broke into Agon Nee's house and found a bloody dungeon in his basement with body parts and gore spread throughout. In the end the apparently meek and mellow teacher had killed 18 people.
They took Agon Nee to a shed on the land of one of the conspirators while they decided what to do with him. While in the shed Anon Nee managed to get a hand free was able to grab a nearby file. In the grips of madness he filed his teeth into sharp points. When the conspirators returned Agon Nee grabbed one of them and ripped out his throat with his teeth while driving the file through his heart. The other friends flipped. out..... one grabbed a machete and cut Agon Nee's head off with one swing. the head rolled to the slde in an upright manner. Everyone watched as Agon Nees eyes were still moving fixing on each of the conspirators, his lips moving silently forming words "I am not done killing".
All the conspirators ran from the shed in horror except one named Stal wart. Stal cleaned up the mess and dug a grave for the body and head. First he threw the body in the grave. When he went to throw the head in the grave he was not able to do so. It was like some mental force was preventing him. He heard a gravelly whisper in his head and then he blacked out. When he came back to reality he found himself standing over the dead body of the girl who had stabbed Agon Nee. Agon Nee's head was now missing. Stal was sentenced to death for the murder of the young woman.
What happened to the head that night you ask? No one knows for sure. There have been several murders across Pennsylvania since the 80's where someone is tortured and dies a gruesome death. The murderer has no recollection of killing anyone and their last memory before the killing is of finding..... or being summoned to a decapitated head.
Yes this is Agon Nee's head on this table. Hope and pray that you do not hear a whispering noise tonight calling you to pick up the head. Or even worse........ hope that none of your friends are hearing a faint whispering in their ear right now. For if they do may god have mercy on your soul.