Discussion Starter
•
#1
•
I recently finish my faux iron torch and had some request for more detail, so here is an attempt at some what of a tutorial (go easy on me I'm not good at laying things out for other people)
This is the finished product.
I started by making the fan box (sorry no build picks)
So I used an old squirrel cage fan salvaged from an automotive AC unit, my box is 10 x 12 I centered the fan in a 10 x 10 square, the width is based on the fan depth (keep in mind the supply hole should be just a hair larger than the fan to keep good air production) at the bottom of the box I used some card board tube cut in half so the bottom is curved (this is to keep down the turbulence in the box and push more air to the top)
So now I cut a hole in the top to fit the 2in PVC pipe into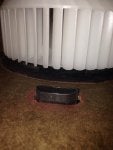 Now most of these fans are self cooling some of the air produced is diverted into the fan motor to keep it cool, so here you'll notice I made a hole for this return this photo show the inside
Here is the bottom, sorry the void under the card board curve is already filled with foam, the fan is powered by a surplus 4 amp 12v unit (think it's from an old laptop)
So on to the base
Here you'll see a 5 gal bucket a plywood circle cut to the size of the bottom of the bucket, a toilet flange (say what, what ever works right), a collar (you'll notice it's not your standard white PVC, keep in mind you can find goodies in the landscaping fittings also) and the 2in PVC pipe.
So here we sand out the inner ridge so we can slide it over the PVC pipe (we need this to make it fit in the flange)
This is how it fits together, bolt the flanger thru the plywood and bucket (remember to cut a hole in the bottom of the bucket for the 2in PVC pipe)
So now mark and cut the hole for the fresh air intake
And mount the fan box from the sides
So now cut some planks out of foam to cover the bucket sides (if you measure the circumference of the top and bottom of the bucket you can get the width for the slats, or at least come close) it's ok to have some gaps we'll fill these with great stuff. I used a gait rubber band to hold the slats in place until I was ready, next I warped the bucket with plastic wrap and shot great stuff between each one filling the voids.