Discussion Starter
·
#1
·
I wanted to simulate an evil forest for this year but was intimidated by the thought of creating trees. My experience tells me that Nature is tough to fabricate in a realistic way. But after viewing several tutorials (Mizerella, The Dark Gardener, Dave Lowe, and more) I decided to give it a shot. Aver a little dabbling, I got a sudden burst of bravery and deiced that I could make 3 trees all at once. After all, one tree does not make a forest!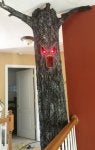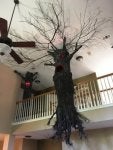 I started by screwing/gluing two 4 ft. section of 12" concrete form tubes together, and played around with the Great Stuff enough to feel like I could make plausible bark. There are several challenges to this project, but the bark was the one that intimidated me the most. I wanted o make sure that I could come up with something decent before committing fully to the project. Great Stuff alone is ok, but ultimately, I wasn't happy with it without further alteration – more on that later.
I then made some paper templates for the faces and cut them out with a dremel. The first one was pure and simple thievery (thanks Mizerella). The next two required a little more creativity.