Discussion Starter
•
#1
•
Long time lurker, but first time poster. I've been inspired by all the creativity floating around the boards, I figured it was time to show some of the things I've been working on. The first face I made out of those $1.88 plastic face masks at Wal-Mart, masking taped the whole thing and to a cheap Wal-Mart canvas I had around that was no good for painting on. (And it looks better in candlelight rather than in the bright daylight).
These faces I made the same way, only I left the tops open so I could put dollar store electric candles in and they would glow a little. And I spray painted them with the "stone" spray paint with a very light coat.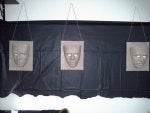 And here they are on the wall...