The eBay stuff is very thin and very difficult to strip for splicing (if it's the 3 mm). I used some on a project. I'll see if I can find a pic.
Edit: Found a couple.
Still looking for one at night. The first one they were off, but due to the sheathing of the wire having the color, they look on in the sun. The second picture is with them on.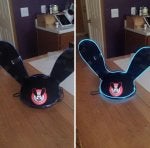 This is from when I was doing preliminary testing with tape before seeing them on.