Discussion Starter
·
#1
·
When looking through the forum I have seen several different ideas on how to mount wiper motors. I have found a way that works for me in every application that I have wanted to use a wiper motor for. It is quick, easy, and best of all it is really cheap. I have never seen another thread with this idea so here it is. I apologize in advance if someone else has posted this idea. I go to the local Lowes hardware store and buy a Pipe Rail Tie for $3.24. Using this method I can mount a wiper motor at any angle or facing any direction I want. Here is what you need:
A Pipe Rail Tie and a Wiper Motor
Just loosen the Pipe Rail Tie and insert the Wiper Motor then tighten the bolt on the Pipe Rail Tie to secure the wiper motor in the Pipe Rail tie.
When you are securing the wiper motor to the Pipe Rail Tie you can place the motor in any orientation you desire to run your prop.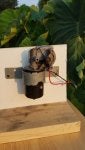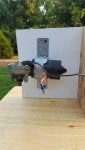 These a just a few of the ways the motor can be secured in the motor mount or to your prop. However, this mount will not work for every wiper motor. The wiper motor can have no larger body diameter than 2 1/2". Since this is the exact size of wiper motors sold by Monster Guts and I get all my wiper motors from them this is the perfect mount for me. I hope this is useful to some of my fellow haunters.