Discussion Starter
·
#1
·
We've either seen one of these on sale or have one toiling away in out yard, the outdoor grapevine prelit pumpkin
and when Nov 1 rolls around they just sorta sit there outside, kinda halloween-ish, kinda thanksgiving-ish but no other real purpose. Until now
So I had three (actually more) and looking around for another design inspiration, I came across this
http://canyouactually.com/this-incr...-is-completely-awesome-and-so-simple-to-make/
Very interesting but a couple of things I didn't like, which were use of a glue and purchasing paper lanterns. This is where the grapevien pumpkins come in. The vines that all around serve as great anchors to the cotton, so no need for glue. The fact that they come prelit means no need to buy more string lighting. And finally, the fact that I could simply remove the cotton cleanly from the pumpkins after the holidays means I could store the cotton and the pumpkins properly and reuse again for the next halloween and xmas.
This is the final look
The 3 pumpkins are tied together with plastic cable ties (again, easy to remove). It is heavier than the lantern design so a used a shelf bracket to hold the pumpkins in place. Underneath I tie wrapped 10ft snowflake twinkling lights. the pumpkin lights and the twinkling lights are wired separately for reason.
Once suspended I simply put buffalo snow on the pumpkins. So easy and nothing falls off. That was why they needed glue in the lantern design- shape was devoid of edges and hinders to to keep the snow from falling off.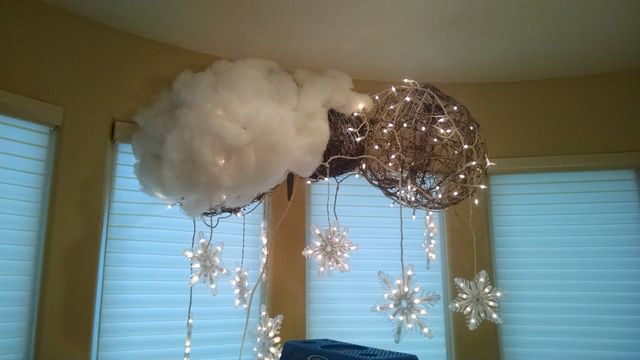 Finally, the wiring for the pumpkins was connected to a Lightning FX box, so now I have a complete simulation of lighting inside the cloud and the twinkling lights, powered separately continue to twinkle
So there you have it, a double use for those grapevine and rattan and similar wicker style outdoor pumpkins to make a really cool holiday display
Victor