Discussion Starter
·
#1
·
wanted to share my weekend project which was about $150:
I needed some sculls, so I called my good friend Mitch Rogers and he was able to supply me with a gallon kit of PolyFoam Rigid. This stuff is great, it takes about 12 minutes to make a scull. I was able to make 58 sculls with a gallon kit. shop.brickintheyard dot com/PolyFoam-R-5-Gallon-Kit-16-Lbs-R5U16 dot htm
This was my work station
This was the start:
This is where it got little bit more interesting:
and finally finished product: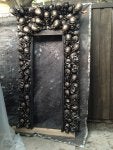 It looks much more interesting in person.
Thanks for looking