Discussion Starter
•
#1
•
I have always wanted to have "torches" for Halloween that looked like they were from medieval times. Believe me, I have looked but you can't buy them on Amazon. So this year I got enough motivation to try to make one myself. Unfortunately if you google "How to make a medieval sconce" you don't get much so this was the result of some experimenting. The "rings" are pieces of 4" PVC pipe. The "rails" are 1/8" x 3/4" aluminum bar stock and connected to the rings with 3/8" bolts and nuts. The bolt head covers were made from polymer clay and epoxied onto the bolt heads. The glass was a 7" hurricane cylinder (no bottom) that I got from Amazon and I painted with two colors of Pebeo glass paint using a sponge which gave the glass this wonderful orangy old-world look and does a perfect job of hiding the LED flame bulb I used.
To get the wrought iron look I first painted everything with a quick-dry primer, followed by some of the "stone look" spray paint to give it texture and then covered that with "hammered metal" look spray.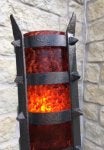 I used
this
flame LED from Amazon. I used a weatherproof socket from HD for the light and the base is made from several PVC pipe pieces that I had to cobble together so the socket would fit correctly and at the same time create a base for mounting the metal rails to. I used wood screws to attach the rails to the pvc base and then the actual pole is just a piece of 3/4" pvc pipe. I bought a 12' extension cord and cut the end off and that runs through the pole up to the socket.
Here's what it looked like before painting.
View attachment 570029