Discussion Starter
·
#1
·
I'm looking for an easy way to build a Haunted Mansion style traveling light effect for next Halloween--preferably using parts I already have or can easily acquire. As far as a build goes, easy (to me personally) means no soldering or circuit assembly. I'd rather use off-the-shelf components that I can plug together, use video projections, etc. Something that won't cause electrocution. My mechanical / electrical skills are limited. And I don't want to become a Real Life Ghost Host (that is to say, dead).
The traveling light effect is the illusion of a ghost or person carrying a flickering light across opaque windows from one room to another, possibly through walls. A silhouette of a person carrying a lantern or candlestick through adjacent rooms would be interesting (more detail). But the important factor for the effect, at least to me, is to broadcast what appears to be a single traveling light from one room to the next across an entire second story of a house.
The second story of my house, where I want to install the effect, has five windows across. Two small windows in each of two bedrooms and one window between the two rooms (in a closet connected to one of the bedrooms).
Some fantastic resources:
Long-Forgotten Haunted Mansion blog post:
http://longforgottenhauntedmansion.blogspot.com/2013/05/weird-glows-gleam-where-spirits-dwell.html
Walt Disney World Haunted Mansion's traveling light effect referenced in blog post. See about 15 seconds in:
Some gear I already own:
* (2) Discovery Wonderwall projectors (short throw / low lumens)
* (1) 2500 lumens Digital Galaxy DG-747 projector (the model with an incandescent lamp; not the LED one). I've used the DG-747 to project ghostly footprints onto a concrete walkway from a 2nd story window and have posted here before.
* Several DVD players
* (2) laptop computers
* (1) Food rotator with slow RPM motor I've used to project a moving silhouette onto a single window, using a super-bright LED flashlight as the light source and a dollar store figurine of a woman:
Ways it is or may be done:
1) A flickering light inside a rotating coffee can.
Disney schematic referenced in the Long-Forgotten blog post: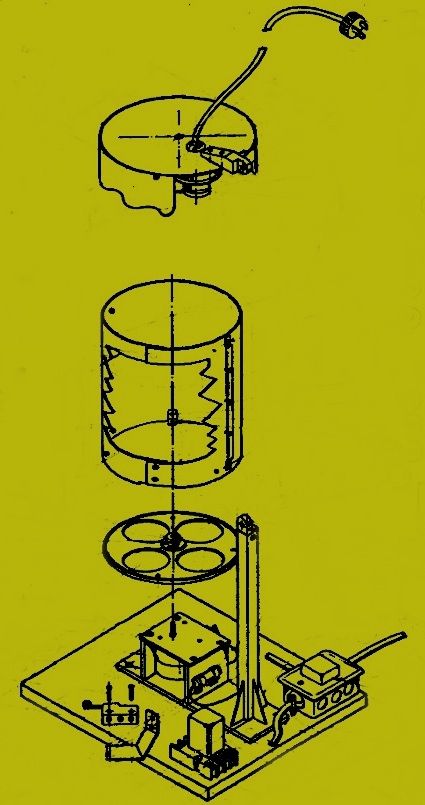 The trick would be getting the next such "coffee can" setup to fire-up and shut down in an appropriately timed sequence from room to room.
There is a great entry from CDW on Micechat.com describing some ways this could be done electro-mechanically. But I've never used relays, etc. Again, potentially great resource here. But the electronics is beyond me:
http://micechat.com/forums/disneyla...ffect-thread-7-further-realms-fright-475.html
2) "3D" projection mapping onto the exterior of the house.
There's a YouTube video out there somewhere of a pro or amateur haunt with someone being chased through several rooms. And I believe The Bates Haunt does this using a projector mounted on a neighbor's house across from his. Unfortunately that option's not open to me.
3) Rear video projection onto windows from inside the rooms of the house.
This is my preferred method. But I'm not sure how I'd trigger video from one DVD player to the next.
It would be interesting to use the same source video, playing from one DVD player and split out to all the video projectors--maybe some sort of quad grid--and position the projectors to only illuminate part of the grid. This way synchronization is always "perfect."
Might also be cool to have a sound trigger, through FM transmitters tuned to different channels, open and release something over each lens of each projector independently. But then that's probably going beyond my Easy Build requirement.
4) An Axworthy Ghost set-up with an LED flickering tea light (or stronger light) instead of a ghost body
Although there'd be a significant delay between rooms--darn walls... Once saw a snippet of an Axworthy ghost traveling through an entire house--in most set-ups, you see them outside in yard haunts. But since I can't even build a standard FCG, that's not an option I want to pursue.
Any other ways or refinements for achieving the Haunted Mansion traveling light effect without soldering and building my own circuits / electro-mechanical devices?