Discussion Starter
•
#1
•
For 2013 I was trying to put more decoration and theme into the haunt. Were as previous years there was nothing to look at, the haunt was nothing but people jumping out. I'm really proud of the improvements I have made this year.
Made a better candy area, a witches hut.
I stuck an electric chair in the front for the kids to sit in and have there picture taken.
The Lobby Room...
Something total new this year was a padded room, and it was actually padded because it was made with some old MMA/Wrestling mat.
Walk way to "The Doctor' room.
The Doctors Ears! An idea I got from an actor in the Halloween Hellmouth haunted house.
The Doctor Himself.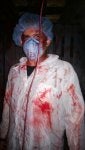 A new for 2013 cemetery, my girlfriend carved some of the stones.
Another new for 2013, a mausoleum. I painted it and everything inside with drylock so it had the look of stone, even though it was flat.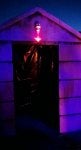 The crypt in the wall of the mausoleum.
All of us standing out in front of the haunt.
An idea we had at 11 o'clock Halloween night, we had so much fun that I thought why not open November 1st, and to make it better, run the haunt in complete darkness. So Desoto Asylum "Blackout" was born. Worked out pretty good for such short notice. We had 54 people go through "Blackout"
Walk-through Video.
Best Scares Of 2013
More Picture? Question? Ask Away....