Discussion Starter
·
#1
·
Okay! Here are the scene/prop design submissions for the Medusa DMX contest.
Please leave a comment, and vote for your favorite submission!
In the order of submission...
dionicia
I have always wanted to animate my Jack Skellington and also build an animated Oogey Boogey. I would use the servos to animate the heads for both and incorporate the LEDs for lighting using the relays to control the LEDs.
I would have them both singing in my pumpkin patch and exchanging banter. The ToTs would love it.
Eventually, I would like to build the kids, the mayer and maybe Sally and animate them too but I would need a lot more controllers for that.
​
Rev. Noch
[Editor: click the photo or the link for Rev. Noch's modularized Medusa DMX, and his plans for Medusa-haunt 2010]
Medusa Control Box + Haunt 2010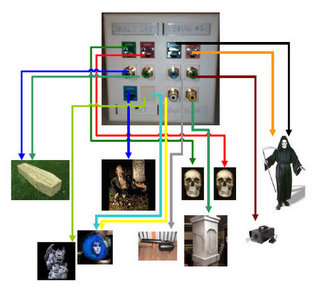 ​
http://www.ohmmygadgets.com/files/applications/Medusa Control Box expanded.pdf
Ghost of Mark Goodson
[Editor: click the photo to see a video of Mark's 2009 Haunted Organist]
Your board was controlling what I call the hand sleds and the hand up and down movement on the servo side. I also utilized it's relay capabilities to trigger play buttons of two DVD players to sink my video affects with the VSA show. Next time (yes I already have another organ) I will use more relays to control fog machines and use you LED side to light the organ pipes. Oh and I will be using the relay out to trigger my brightsigns [audio/video players] ;-)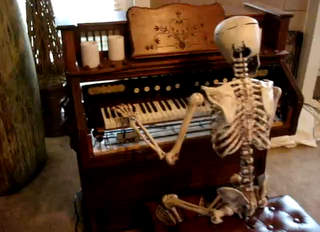 ​
So there they are, the Medusa DMX design contest entrants! Remember, the contest was for the best idea - entrants didn't have to build their submission.
Please - while you're here, visiting this blog, post a comment voting for your favorite submission.
I'll leave the voting open for 3 days, and see where that gets us
Thank you!