Discussion Starter
•
#1
•
I have a couple windows on the front of my house, they are hidden a bit by the porch. I WANT to decorate them, but I also worry they won't be seen very well because of the porch. Here are the windows in question (two to the left of the door, and the picture window to the right of the door).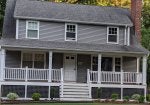 The front lawn becomes a cemetery that starts just to the right of the porch steps (and snakes around towards the neighbor's yard).
I keep looking for some cool window posters to use, but most of them are zombies or sorta cute. My yard with the cemetery is mainly spooky. The tombstones have little vignettes (accessorizing a tombstone is a BLAST if you ask me). I kind of want the front windows to have that same spooky/creepy vibe. This is one idea I loved, and creepy cloth is not a lot of money. I'd need to figure out the skull (maybe its a shower curtain?) but for the picture window this would be pretty sweet. I'm stuck on how to replicate this for the two normal windows, though.
Another inspiration picture ... we have black lights and the larger picture window is in a room we really don't use. So having a quickie cheesecloth ghost in the window would be very doable on that side, but not on the other side (we do use the room with the two double hung windows, a lot).
So ... thoughts? Since they are hidden is it worth using the windows? Or better to maybe focus on the center window upstairs as a spooky point of interest, and make the yard phenomenal? Any brilliant window ideas (that won't kill my prop-making dance card ... it's pretty full now).