Discussion Starter
·
#1
·
OK-I finally got my coffin finished. It only took me the whole month of April. I think it turned out really well, considering this is my first one. I always thought it would be neat to put a window in the top of a coffin, kind of like the old-timey ones. Here is my attempt.
I call it "Tomb with a View":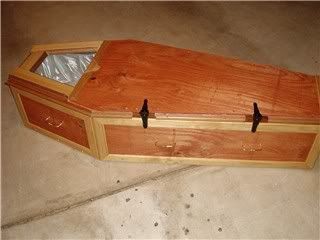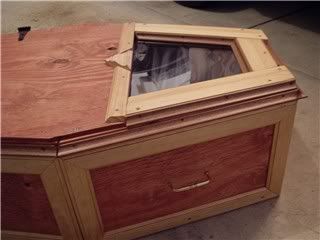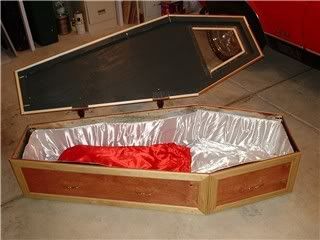 I started by making a toepincher shaped pattern out of cardboard and used that to cut the shape for my plywood bottom. I then attached several lengths of 1 X 2 wood along the edges of my bottom piece in order to give the side pieces something to attach to. The sides, head and toe panels were cut from the same sheet of plywood. I used a miter box to saw several pieces of pine moulding to use for framing the four side panels.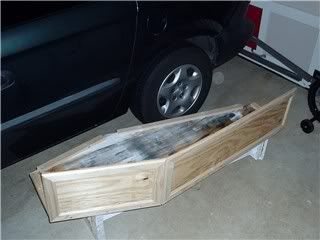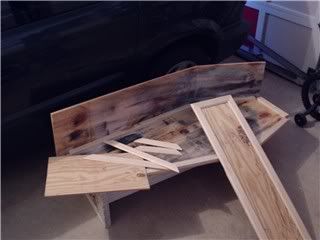 After screwing on all of the moulding to the side panels I then attached the four sides, the head and the toe panels to the bottom section. I used a vise to bend small "L" brackets to use between each of the panels to hold them together. I cut the lid for the coffin using the same shape, but left off the top quarter of it to make room for the frame for the window. Like on the bottom I attached several lengths of 1 X 2 wood on the underside of the lid for sturdiness. I framed the top of the lid with 1 X 2's and then screwed some sections of 1 X 3 wood over that to match the upper shape of the coffin and make a frame for the window.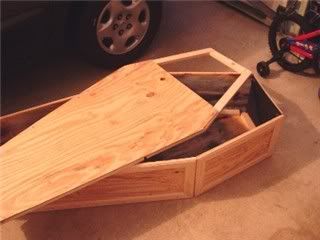 After making sure it all fit properly, I dis-assembled all the pieces in order to stain and clear-coat all of the pieces. I used a Cherry colored wood stain for the sides, head, toe and lid sections. All of the trim moulding was done with a Honey Pine stain. After two coats of stain and two clear-coats everything was put back together. I cut a plexiglass piece in the shape of the window and attached it to the lid on the underside. I used two 4-inch black hinges to attache the lid to the coffin. The last major step was to trim it with cove style oak moulding all the way around.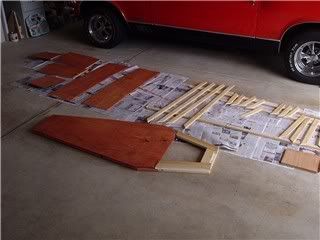 The finishing touch was adding six brass handles (three on each side). The liner inside the coffin came with an animated skeleton I bought from K-mart after Halloween.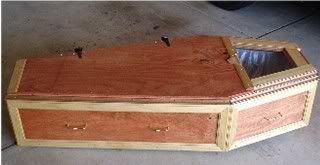 List of Materials:

Sheet of Plywood---------------------------------------------------------$ 16.00
"L" Brackets------------------------------------------------------------- 3.75
Wood Screws---------------------------------------------------------- 7.25
Pine Moulding (2 X 3/8 X 8ft.)---------------------------------------- 30.00
Cove Moulding (Oak)---------------------------------------------------- 8.40
Honey Pine Stain-------------------------------------------------------- 10.00
Cherry Stain---------------------------------------------------------------- 5.00
1X2X6 Wood---------------------------------------------------------------- 5.46
Brass Handles------------------------------------------------------------ 6.00
Plexiglass------------------------------------------------------------------ 3.00
1X3X6 Wood------------------------------------------------------------- 2.00
Hinges-------------------------------------------------------------------- 9.00
Coffin Liner---------------------------------------------------------------- 15.00
______________________________________________________________

TOTAL ---- $120.86
I plan to use the animated skeleton with this coffin next Halloween. I had planned to build one for just that purpose. This contest got me motivated to finally do it.
Here's a couple more pics: