Discussion Starter
•
#1
•
Here is a lava panel someone asked me to make, it was sculpted in wax and WED clay and molded in a giant ultracal mold.
The final piece was cast in latex
It is 4ft by 4ft squareish, in regular paints it has several hundred skulls on it ranging from 1/2 an inch to a couple of inches each...
thanks
hope you folks enjoy!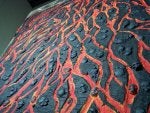 Here is a pic with a 1 gallon paint can for scale!