Discussion Starter
•
#1
•
Hi guys!
So I decided, since my Halloween Party this year is going to be Haunted Freak Show, I would make a few props and then share them with ya'll!
First project: Freak Show Marquee Sign! And I decided to share my progress!
SUPPLIES:
Foam Board (1 sheet black, 1 sheet white)
1 Exacto Knife
1 String of white Christmas Lights (any kind)
Red Spray Paint
Other Supplies: pencil, ruler, tape
First, decide what kind of design you want the base of your sign to be. I just kind of free handed something and cut it out with an exacto knife, but you can get ideas from the internet.
Next, decide what kind of letters you want. I spent time going to different craft stores first to look at different kinds of letters but in the end I decided to cut my own from foam board because I knew had some awesome carnival fonts on my computer
When you decide what kind of font you want, size it appropriately and print them until you get the size you want.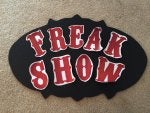 Then prepare them for tracing on the white foam board! I used some tape on the back of the letters so they wouldn't move around when I traced.
Then of course, next go through the pain-staking process of cutting out each detailed letter! Whew!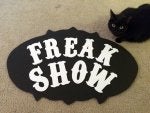 That's what I've got for now! More progress pics as I go! Next will be spray painting the letters!
MORE TO COME...