Discussion Starter
·
#1
·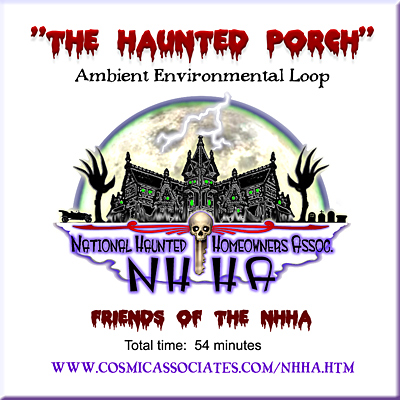 Looking for
just the right ambient audio to set a properly creepy mood
at your Haunted Mansion this Halloween, but don't want to blast the 'hood with screaming victims or the same tired old synthesized wall-o-sound…?
Well, your hearse has arrived!
"The Pumpkin Song" & NHHA Ambient Loop > "Crumpkins Pumpkins" from Cosmic Associates
Test-drive the
"NHHA HAUNTED PORCH AMBIENT LOOP"
by Friends of the NHHA (use the "Sample" link) –
50 + minutes
of deliciously dark, mood-setting, atmospheric Halloween night sound FX. The perfect audio loop for those home haunts where a "Quietly-Creepy Style" is preferred.
Of course, it
also
comes with 3 1/2 minutes of the
"Crumpkin's Pumpkins Pumpkin Song"
, which is anything
but
quietly creepy, so let our ghoulish gourds sow a little wicked whimsy into your sinister scene – or just skip it to launch the "Haunted Porch Loop" all over for
another
50 + minutes of eerily foreboding acoustically eerie aural ambience…
And since our 'CafePirates' shop will be CLOSING SOON (due to CP's recent anti-shopkeeper policy changes), this recording may soon be unavailable (at least, until we can successfully lobby for CD availability at our
new
Zazzle shops:
NHHAshop: Home: Zazzle.com Store
, and
Crumpkins_Pumpkins: Home: Zazzle.com Store
), so get
yours
while the crypt is still open…
Most Sanguine Cheers and Happy Haunting!
SOT