Discussion Starter
•
#1
•
I got this idea a few years ago when i wanted to make a fence for my yard. The idea of painting pvc and drilling endless sections of 2x4 seemed like a little too much math, measuring, and expense. I found a supply of pallets at the local grocery store, so I asked for 3 or 4 of them and they said ok. Another source might be a trucking company or a place that accepts construction waste. I advise against stealing them, some stores have cameras in the back and who wants to get busted stealing pallets?
I took them home and tore the planks off of the support pieces, which are the larger boards inside that the planks are nailed to and resemble 2x4s. You get 3 boards per pallet and about 7 or 8 planks on each side.
Tear them apart and use the support boards as the frame and the planks as the "fence". Depending on how you space them and how many pieces you break you should be able to get about 16 feet of fence out of 4 pallets. I broke some of the pieces of the fence long ways to get varying widths. I also screwed some of them at an angle and at different spacing to mix it up a bit. You could also only screw a couple into the top so the piece moves.
Use 2x4, plywood, or other material screwed to the back at an angle to lean them against the ground at a reasonable standing angle. If your fence is going to get touched by ToT's or you have a lot of wind, i recommend using a couple 2x4s and a post hole digger to mount them into the ground.
The biggest advantage i feel is that if you get older pallets, they come pre-weathered, there's no need for additional work staining or dirtying of the fence when it's done. I added some spider webs and leaves, and I leave mine behind the garage all year to further the weathering. The pics i took of my fence is pretty much how it looked when i made it.
If you're not much for feats of physical strength i would advise against this project. Pallets, especially newer ones, are well built devices. There is a lot of hammering and prying involved that kicks your butt pretty hard. However, for free, i feel it is worth it.
Completed fence with webs and leaves:
Back of fence showing structure and method for bracing: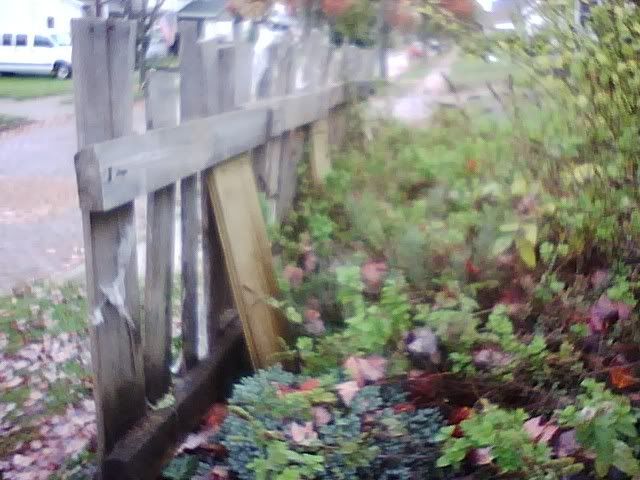 Close up of fence: