Discussion Starter
·
#1
·
(If this is in the wrong place, my apologies!)
So I wanted to try my hand at making a werewolf skin rug, and so I bought a taxidermy form for a bear. But then I decided it would be much more fun if I could wear the werewolf skin! And thus the wearable werewolf project was born.
While searching for inspiration on how to set about making this thing, I discovered this
werewolf shrug created by an artist named Magpieb0nes on DeviantArt
. Taking this idea but making it less animal mascot-like and more menacing, I did these sloppy sketches.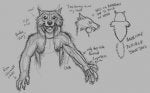 I'm going for a combination of an animal skin headdress and hoodie.
So here's what I started with, a grizzly bear rug shell (with a silly face drawn on it).
With a saw and a dremel tool, I went about modifying the form to fit onto my head, as well as giving it more canine features. The nose is completely removed and will be re-sculpted. Foam dust EVERYWHERE. I wore a respirator and I still got some up my nose.
Fitting the glass eyes. I'm using taxidermy lion eyes.
I'm home alone at the moment, so getting it to fit right consisted of taking a lot of selfies during the carving.
Hopefully I'll look less like Goofy when it has teeth.
Tomorrow I hope to start sculpting to build up the features. Stay tuned!