Started this off by making a 1" slit where the covers meet the spine which allowed me to fish the plastic through. This made it easy to wrap the book in plastic and hit it with the heat gun for the flesh effect.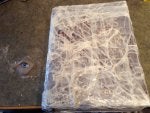 I painted the eyeball with red acrylic on the back half, brushing toward the front, downloaded/printed an iris which I glued to the front of the ball. I unravelled some red yarn and after applying mod podge to the ball, carefully laid some of the yarn out to look like capillaries, then more podge. I fashioned an eye socket of sorts out of dollar store clay and set the eye, now cut in half with a rotary tool, within.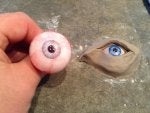 I then applied a very light coat of latex caulk with a finger to give the stain something to hold to for a darker look, which masked the underlying text on the cover of the dictionary I used for the project. I got the book at a garage sale for 2 bucks and I'm sure the whole project comes in under $5.