Discussion Starter
·
#1
·
Happy belated Halloween all,
Although this year had a couple fails I still felt it was a success. The photos below were taken today in the "aftermath" phase.
The camp site, fail #1 Jumping Werewolf behind the tent ripped itself apart about 15 walkthroughs in
Crazy Ralph
Spider hallway, the jumping spider didn't trigger as often as I would have liked after the werewolf crapped out as the audio from that prop set off the spider.
Hand crafted Crystal Lake sign. After this sign was a very short dark hall that I didn't picture.
Last room Jason's Shrine. Fail #2 the drop panel to the right, which was a huge success this year broke down after about 85 deploys. After that I just tucked back in until the guests rounded the corner and then jumped out at them wearing my Jason costume. I had a baby monitor rigged so I can see them approach because for the dry run a week prior I ran it without the camera and my timing was awful to say the least.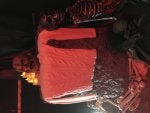 Pamela Voorhees! Fail #3 I had a Crawling Cathy from last year that started making noises towards the end of the night tucked in the reverse corner of the shrine room, Her sensor is so sensitive I was triggering it with a foot pedal from inside the drop panel room.
The official count is 186 guests walked through on Halloween, Not bad for a Tuesday! Also I sustained a back injury this year that really sucked the life outta this thing as I had a hidden door in the dividing wall where I was supposed to "stalk" the guests through the camp scene and then "magically" be in the drop panel at the end, I just could't do it with my back pain so I just chilled in the drop panel box