Discussion Starter
·
#1
·
***DISCLAIMER: This is a project with ELECTRICITY!! If you haven't worked with electrical devices before and are unsure of what you are doing, don't do this! You could get hurt. DO NOT work on your opened power supply with it plugged in!!!!***
Now before I even start on this, I'm going to say right up front that this was not an original idea, but rather one that I got from this web site:
Converting a PC Power Supply
If you follow his direction carefully everything works just fine.
So the very first thing I did was to open the power supply, cut off all the plugs and segregate the wires by color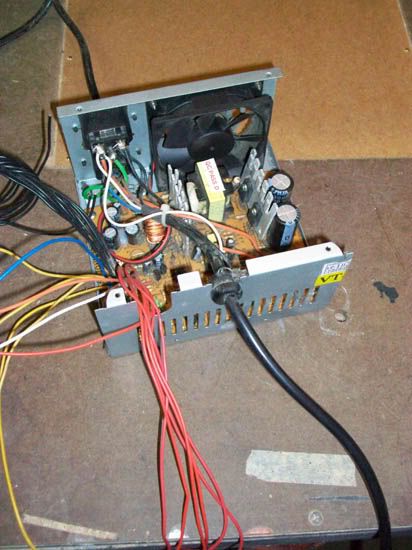 Now the next thing I did, even though the colors are identified in the web site, was to separate one of each wire and tape it down so I could measure the voltage with my multi meter and identify each wire. While you may not need to do this, there are some ATX supplies out there that do not adhere to the standard color coding that most companies use.
next I drilled out the cover of the power supply and added the binding posts, then I soldered in the 10 ohm wire wound load resistor, this helps the power supply to "latch on," and it also stabilizes the voltage on the 12v rail. You can see it here being held on with the green wire tie.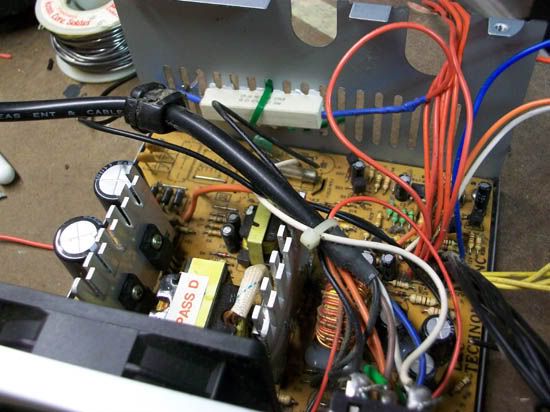 Next I wired in an LED indicator light so I know when the power supply is on.
For attaching it I didn't do anything very technical, I simply hot glued it into the hole I drilled for it, oh before I forget, I actually savlvaged the LED's, on-off switch and the power cord from the computer I got the power supply, no sense in buying something you can get for free.
Now that I had that all squared away I wired the binding posts with the voltages I had chosen for my power supply, in my case I need an all 12v supply, so I have 2-12v+, 2-common, and 1-12v-. What this will give me is the ability to run 2 12v motors off this supply or a 12v and a 24v.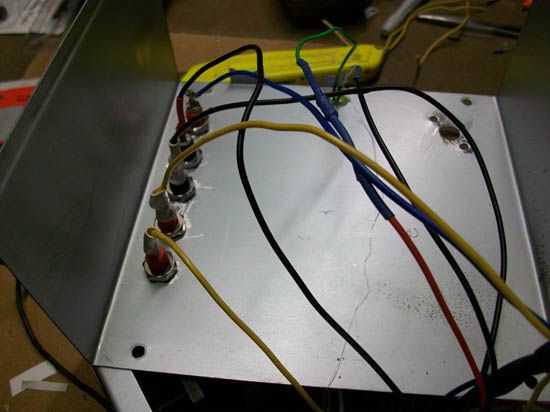 Now being a frugal New Englander, I can't see wasting the other leads for other voltages, so rather than cutting the wires off at the board like the website said, I chose to heat shrink them together and leave them inside, this will give me the ability to add them in later should I decide I need them.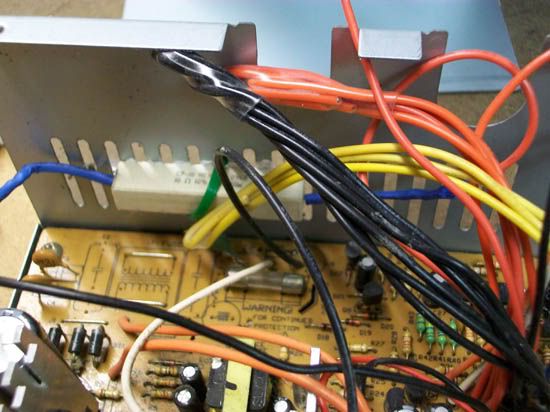 Now I was fortunate that the computer I found actually had a good on-off switch that was wired directly to the ATX, so the next step is to shorten the wired on that switch to something usable, they were a foot and a half long.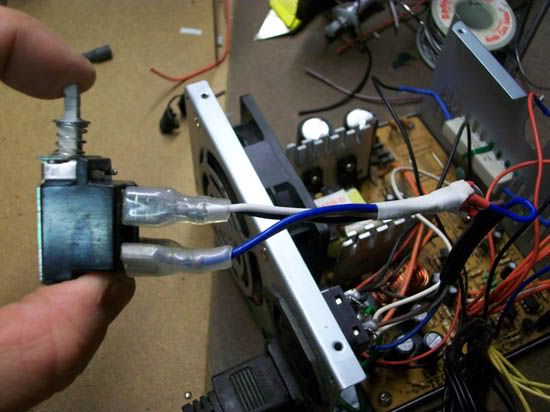 You can actually see the heat shrink on the wires where I soldered them back together.
Now that all of that is done it's time to put it all together and label it all up.
There you have it a finished bench top power supply from an ATX power supply!
And just to prove that this does work heres a video I made to show you
http://vid903.photobucket.com/albums/ac239/kaylakasey1990/Halloween Forum/103_0455.mp4