Discussion Starter
·
#1
·
So I decided this year in my basement bathroom to have hundreds of cockroaches. On the floor, on the walls, everywhere. So need some prop help.
1. I guess to best stick to the wall would be to use a little bit of double sided tape. Any other ideas are welcome
2. There is a rug in front of the vanity and thought about putting something under it so feels like you are crushing roaches. Will peanut shells work? And would it last all night?
3. Will have some small wireless speakers for some kind of sounds. Bugs crawling or something similar. Anyone have sounds of links to some?
4. On the floor near the toilet, I thought about have a thick layer of the roaches and something underneath them to simulate movement or have a few move. Don't know how to do that quite yet.
5. This I have figured out but like to share. In the shower stall there is a recessed bulb. I'm going to take bulb out and install this: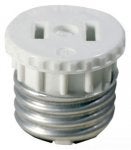 Then will have short throw projector and project roaches on the shower door.
Any suggestions or comments are welcome!