Discussion Starter
•
#1
•
Hi, I am Dan Murter aka GRIN and my associate Ryan Ross aka Karnage .
We are looking for help to grow our clown themed entertainment company.
The biggest reason we are doing this go fund me page is to raise the funds to buy an ice cream truck to run our business from.
this won't be your normal ice cream truck, our "I scream truck" will be set up to be our transportaion to events, it will also be available to rent for proms, weddings or anything your demented little heart desires.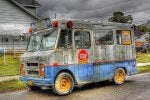 (this is just a representation of what we are looking for)
We wont be operating the truck as a typical ice cream truck, as we wont be selling ice cream.
We currently go to conventions, events, local bars and just go clowning around. we are looking to expand this into an actual company. We are trying to raise funds to purchase equipment such as a company vehicle, props, audio/video equipment, costumes and supplies. We want to do everything from birthday parties and corporate events to video clown-o-grams.
Any and all donations are very appreciated and will go towards helping us reach our dreams.
PLease follow this link to help us..
http://www.gofundme.com/9gdhls
If you would like to see more of what we do please visit:
kaRnAGE:
[COLOR="#FF8C00"][/COLOR]https://www.facebook.com/Karnagetheclown
GRIN:
[COLOR="#FF8C00"][COLOR="#FF0000"][/COLOR][/COLOR]https://www.facebook.com/Grinthecreepyclown