Discussion Starter
·
#1
·
After posting last night in the Home Dept thread about what I have on order, I had a few request to post some pictures. Granted, none of the items have arrived yet, but here is last years Haunt.
I hesitate to post, as you guys are on the extreme level with a lot of you are making your own props. This year only makes my 4th year doing this, with last year being the biggest haunt for me. The biggest hit last year was the Motorcycle Skeleton and the Gargantuan Spider. The biggest drawbacks are parents sitting their TOT's on/in the displays for pictures. They completely ruined the lights along the driveway. This year I will add a black metal fence all around the front yard with a sign to deter this behavior. I have grown to 1000 TOT's over the past 3 years and expect 1500 TOT's this year (some traveling as far as an hour away) so display casualties are expected.
With that said, I have a fairly large front yard and would like your suggestions on where to put the new items ordered. To refresh, I have the following on order from Home Depot:
Flying Witch on broom
Rocking Chair Witch
Swamp Witch
2 Cauldron Witches
Lunging Witch
Fire Breathing Dragon W/ fog machine
7ft Werewolf
Grim Reaper
Piano Playing skeleton
3 regular skeletons
Headless Horseman on a horse.....this one is my favorite. Hopefully I will be able to post a video and you will see why.
I am not the best photographer, but here are the pics from last year. I am open to suggestions and ridicule. LOL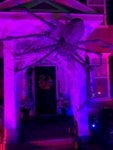 Here are a few daytime pics:
Now about the video. I dress up as the Headless Horseman each year and I have a few friends as Freddy & the Texas Chainsaw guy roaming up and down the driveway. The Costume has evolved over the past 3 years (noting my Skeleton Horse Rider now wears the old costume,LOL).
I bought one of the creepy pumpkin mask years ago and placed a bowl inside of the mask upside down. Large enough to hold 20-30 pieces of candy. The pumpkin is then carefully placed on what would be my neck. The TOT rings the doorbell and I answer the door with the pumpkin head on........then I remove my pumpkin head, revealing I am headless, freaking them out in the process and hand out the candy from my head. I then go back inside and fill the head up again for the next group. I do this over and over again all night and have pretty much perfected it, I think.
Please let me know your thoughts and especially where to place the new displays.