Discussion Starter
·
#1
·
I love disturbing clowns (a fact which some of you already know from my
Ernesto von Polkabutt tutorial
). So when I bought a $10 little sound-activated Grim Reaper from Canadian Tire, I knew he would be so much better as a clown.
To clownify him I stripped off his hat and black shroud, leaving the fluorescent orange underlayer he already had on. I made him a new costume out of some fabric and pom-poms, then strung pom-poms onto thread and tied them around his wrists and neck to create a replacement for ruffles (I was feeling too lazy to make 1/2" ruffles). I repainted his face using blacklight-responsive paints and cut curls off of a clown wig, using Liquid Latex to attach them to his skull. I then cut bits off of Mardi Gras necklaces and hot-glued them into smaller Mardi Gras necklaces for him to hold.
Once the clown was done, I asked my 11-year-old son for a name for him. This was a mistake, as my kid immediately said, "Steven."
"Steven?" I asked, hoping I'd misheard and maybe he'd said something creepier.
"Steven," he replied firmly. I hid my sigh and asked my younger son for a last name.
"Boo," he said.
So this is Steven Boo the Clown. (Note that I also made the mistake of asking my kids to name the jumping spider prop we got from Spirit Halloween, so of course now it's Jumpy the Spider. They never get to name anything else EVER.)
I'm undecided whether to leave Steven Boo as sound-activated, or cut off the "test this prop" button and attach those wires to wires running to a homemade pressure pad, so he'd be triggered by people walking next to him. We'll see. I'll probably end up running out of time and just leaving him sound-activated.
Before: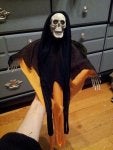 After: