Discussion Starter
·
#1
·
Oops that should say tricorn hat lol
So this hat (for tutorial purposes) isn't a Dollar Tree army hat but it's the same concept...
•Cut brim off of hat with a pair of scissors, army hat has a small brim but I removed it as well.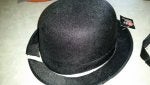 • Measure fabric to hat, you want it to cover hat completely (plus a little extra for glueing on one piece)...cut 2 pieces of fabric. 1 will cover the hat and the second will make the new brim. THESE ARE NOT ROUND HATS SO BE SURE TO MEASURE ALL FOUR SIDE BEFORE CUTTING YOUR FABRIC.(If it's a little more oblong like this derby hat, you will have to play with it...I made my circular template cut out the front and used it at the rear...then i just cut straight cuts joining the two for the sides)
***If your using the army hat, just simply remove cam covering, remove glue so it can be ironed out and use this as your new template
*If your lucky enough to find a felt floppy hat you can skip these steps.
• Using our elementary school minds, do the whole paper folding trick to get your arc, so you can turn this square into a circle.
• Now it's time to glue 1 piece onto the hat, tucking the edges inside the hat simply hot glue the edges.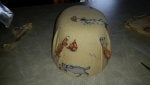 • Time to paint (unless u chose to grab a faux leather fabric). I did 2 coats, and for the brim I did 2 coats on each side.
•Time to attach brim, (this step is easiest on painted fabric) I traced the shape of the hat onto the fabric, so I could remove some of the excess fabric as well as cut the fabric for contouring....then simply glue it on.
•Now turn it into a tricorn, bicorn...whatever u like...again this was done with hot glue.