Discussion Starter
•
#1
•
Just thought I would share with you, and easy and cheap way I have found to make my dead skeleton pirates for this years Halloween display. The full poseable skeletons are really expensive here in UK and as I need quite a few pirates decided to experiment a bit. I don't claim to be a master creator of props but I don't think they have worked out too badly. As you guys are full of great ideas, any suggestions on how I could improve them would be great!
They start off with a cheap plastic skeleton mask from the pound store (dollar store to you guys), I mount that on a store carrier bag that has been stuffed with other bags to create a head shape and attach to a coat hanger as shown in pic below: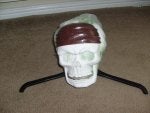 If I need the pirate to stand in a prop, which I have needed for my Captain of the boat I have attached a garden cane that I can then attach to my prop, which usually just involves putting a hole in either the cardboard or the wood and slotting the cane through. It is then just a case of dressing the pirate (most of which I gathered from the house) and creating its dead face. I have shown below three that I have already made, my Captain, first mate and my drunken pirate (which works with the water coming out through the bottle and back into the crate below) I will post a video of him working on Halloween as just dressed him and don't want him getting wet yet)
View attachment 215602
View attachment 215603
Captain
View attachment 215604
View attachment 215606
First mate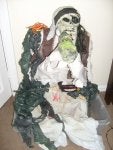 Drunken Pirate
I have also shown below how easy they are to attach to props, the cane that is attached to the captain simply slots through a hole in this part of the boat, all he needs now is his hands adding, but it is very strong and doesn't fall down.
Front view
back view
The masks cost £1 each and the clothing I have got from around the house. You can add arms/legs if required, the captain is going to have hands attached as he will be steering the boat. So very easy and cost next to nothing to make, any suggestions for improvement greatly appreciated