Discussion Starter
·
#1
·
Hey all!
I'm Brian. I used to frequent this site back when it first started but stopped posting when my family got tired of setting up our Halloween display and I went on to help with my best friend's yard. But now I'm starting from scratch with my own empty yard and I'm moving fast! Hell, I'm taking on about 5 different projects at the moment.
This is the first set piece/prop I'm making for 2015. They stand at 8ft tall but collapse to 5ft or three separate sections for storage. I work at the Macy's Parade Studio and we know a thing or two about collapsable sets!! I'll be nailing on some luan and nice trimming in weeks to come (weather permitting... it's freezing in Jersey).
The frame is composed of 1x2s glued and screwed together with pocket holes and a base made of 2x4s that I had laying around. The luan will be supplied to me via my best friend. We hope to open a walkthrough haunt one day and I agreed to loan these pillars to the cause if somehow he pitched in. Thusly, my goal is to make them cheap but sturdy and durable enough for years of use. The trimmings are courtesy of the contractor who ditched the job he was doing on our house a few years back...as well as some tools, and some sculpted foam pieces.
The centerpiece of this gateway will be an animated, squirming, groudbreaker-like zombie atop one of the pillars or affixed to the archway. More on that as the project continues.
Here she is folded up. I'll either keep a face open on each section or make them detachable once the luan is on.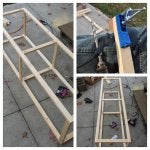 The Kreg Mini Pocket Hole Jig. Cost me $20 and I can't imagine working without it.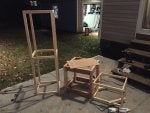 The three sections.
(This pic is rotated counterclockwise) The top piece fits on over the mid section like a loose glove. The trim I'll be installing will disguise any gaps. The mid section sits on top of the bottom and is anchored with 4 bolts.
Maybe not the most exciting WIP you've seen but I get excited about these things.
Any tips are welcome! Thanks for reading!