Discussion Starter
·
#1
·
So since I started doing a Halloween display, I used this fence from Spirit Halloween. The purpose of the fence is not only decorative, but serves the important function of letting people know not to walk back there. The trouble was, this fence was frankly a major pain in the butt. The way the sections attached was difficult to line up, came apart too easily, and the plastic stakes were impossible to drive into the ground. Every year I would fight with it and swear I was going to make something myself to replace it. This details my replacement build.
Started off with making a framework for the gate columns. These are made with furring strips (cheap wood).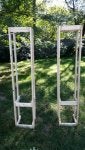 Three sides of the columns. I'm not permanently attaching the fourth side because I'm going to have the back removable, allowing me to put electronics, fog machine, speakers, lights, etc. in them.
Columns clad with 1" extruded foam.
Put 2" foam on the bottom of the columns to build it out a bit more.
Cut some holes in the foam where I'm going to "expose the brick". Also distressed the foam with a heat gun.
Added decorative molding (which I also distressed on one column), added some foam panels that I cut into a brick pattern, and added L brackets to attach the gate and fence to.
Put a coat of Drylok primer on the columns (to give a concrete-like texture) and put the base coat of brick red on the bricks.