Discussion Starter
·
#1
·
So after seeing the deteriorating condition of some of my props after 5 years, I decided to scrap a few and make new ones. This stirring witch prop used a record player and pool noodles for arms and it worked alright until the record player died.
https://youtu.be/CYviZUTAzNg?t=42s
So its time for her to be put to rest. I decided to build a cauldron creep using a reindeer motor I got from Kindy's. Here is my progress so far...
First It's time to cut pvc..I got the measurements here
http://quirkyartistloft.blogspot.com/2013/09/diy-cauldron-creep-halloween-stirring.html
Next I got the skull that I'm using from a bag of bones from Fright Props. The Eyes lit up and flashed and it made a ghost noise. I just wanted the eyes to light up steady with no sound so I did a little rewiring.
I used pvc and hot glue to attach the skull to the body.
Looking good!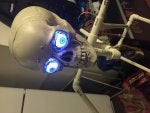 I put two screws in the head to hold up this mask that is also from Fright Props.
I have decided not to use a motor to animated the head. I will either use a spring an the natural swaying of the frame for movement or a pulley system linked to the the stirring motor. So in the meantime im using a bungee cord.
Now its time for a paint job! I built the H out of 2x4.
Now to build the reindeer motor linkage. I used some aluminum with some holes drilled and cut off one side to make room for the pvc endcap.
I also started making a staff out of a broomstick and great stuff. I'm not sure if I will use it in the finished one though.
And here he is with the motor attached. I stuck some pvc on the arm to see if it would hold the weight.
Sorry for the long post and I'm not sure why some pictures are upside down. I'll try to do better next time. Thanks for your feedback! I'll be updating as I work on this.