Discussion Starter
·
#1
·
Hey everyone!
I had an awesome turn out for this year's King of Halloween Bash fundraiser for Alzheimer's. It got me thinking on what I can do for next year to help raise money for the cause. As much as I love building decorations, I kind of want to take a break and have more "interactive" things with my guests. I had a few ideas for some *carnival booth* type games, but I didn't know if anyone has attempted the concept before?
A lot of them included Hacking children's toys as I don't know jack about building circuit boards from scratch.
*
#1 Idea- ZOMBIE SHOOT
*
First Idea I had was making a moving lifesize zombie target that you shoot with an Infrared/Laser gun in certain areas to rack up points.
Doesn't seem too complicated, it can be as easy as building a sturdy dummy and mounting it to an isolating fan, and hacking apart a game such as this for the electronics:
http://www.geekalerts.com/zombie-shooting-gallery/
*
#2 Idea - A L I E N Whack A Mole
*
I remember when I was a kid back in the mid 90s I saw Toy Story and thought "How cool would it be if they built this?!"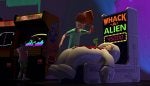 Turns out they actually did, but for budget reasons perhaps I can make my own from a hacked "whack a mole" game out there. Most of these don't "pop up and down", but a buzzer and an LED light can make it enough fun.
The chest can be covered with these guys:
http://www.officeplayground.com/ProductImages_icohover.aspx?ProductId=5862&index=1
When hit they would give a cool effect. For the bonus, you can smack the facehugger on the astronaut's head
*
#3 Idea CREATURE FROM THE BLACK LAGOON DUNK TANK
*
A while back I saw someone had made an incredible CFTBL costume from an old wet suit. This might be a neat concept if we combine it with a dunk tank alternative. An actual dunk tank may be costly, but this is a very cheap and fun alternative
http://lifehacker.com/build-your-own-backyard-diy-dunk-bucket-1614138135
...a BIG downside to this is that it can get gold, but what if you can substitute the creature with water resistant mechanics? It wont be completely submerged, so this can definitely work.
*
#4 MONSTER WARTS (BALLOON/DART GAME)
*
the balloon and dart game has always been my favorite in carnivals. This is an easy set up, and can have a twist of small amounts of stage blood added in the balloons. The balloons the themselves can play the role as warts, eyes, or the spots on a spider's back.
Do you guys have any other fun suggestions or ideas? Any past time arcade game you can think of that could be "Halloween'd Up" ?
Has anyone had a carnival game at their party before? Let me know!