We did a carnevil theme for out party this past year and had 4 carnival games for our guest to play.
Knock the can's over. All we did here was take food cans, cover with duct tape and get balls/bean bags.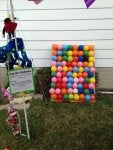 We did a pop the balloon game. All we did here was take a board and used push pins to hold the balloons and darts.
This is what we called skull pond...kind of like the duck pond game. We just put numbers on the bottom of the skulls and they had to pick one. We did our blind folded since our water didn't float around the pond to make the skulls move. Oh and another tip the skulls need some kind of weight at the bottom, because they kept wanting to turn over.
Lastly we did a ring toss game. These skeleton arms were actually a fence that I took the chains off and used the arms separately. We got big hoops to through.
Our guest had a blast.