Discussion Starter
•
#1
•
OK, imagine if you are burglarizing a home on New Year's Eve and little did you know, you were in Thor's crib. heh...
You never know when your costume will come in handy:
Burglar flees in terror after homeowner returns from New Year party... dressed as Thor, God of Thunder
by Daily Mail:
A muscle-bound building boss who came home from a New Year's Eve masquerade party dressed as Thor scared off a burglar by charging at him in his superhero outfit.
Six-foot-tall fitness fanatic Torvald Alexander, 38, was wearing a full God of Thunder outfit - complete with flying red cape and tinfoil silver-winged helmet - when he spotted the burglar in his front room rifling through a desk.
Mr Alexander, who runs building firm Alexander & Summers in Edinburgh, Scotland, said the burglar threw himself out of a first-floor window of his £350,000 home in the Inverleith area of the city when he opened the door and confronted him.
The man landed on a roof outside the window, which broke his fall, enabling him to escape.
Mr Alexander said: 'As soon as he saw me, his eyes went wide with terror.
He looked like he had had a few drinks and decided to do a late night break-in, but he hadn't counted on the God of Thunder living here.
We were both startled but then the instant reaction was that I ran at him and he just jumped straight out of the window.
'I think I would be quite scared if someone looking almost like a gladiator ran at them.
​
Yep, there's a picture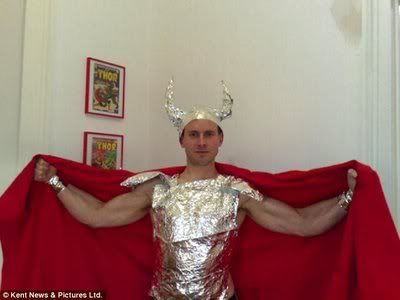 Burglar flees in terror after homeowner returns from New Year party... dressed as Thor, God of Thunder | Mail Online