Building a portal from hell. Edited basically done the project

Edited 11/2/2021

This is still one of my favorite props that gets broken out every year . I wanted to add what I would do different if I made this today. A lot of this tutorial is based on putting a bunch of different color string lights into great stuff foam. Over the years some of the lights stopped working and honestly it was a pain to keep track of the batteries and which battery pack went with what.

Last year I pretty much ditched the string light aspect and painted the various parts of the the portal with black light paint which I sealed so that it would not wear off in the rain. Add a black light or two and it really pops and I think looks good. I included recent pictures in post #27. If I were to still do any string lights, I would only do the ones in the bones and skull around the border.

So if doing this today….. I would use black light paint instead of the string lights.

___
Edited to add a list of supplies, links and approximate cost for the project if anyone is interested.
Devils mask and hands, I got them for %50 off after Halloween. Listed as $35 and $10. Obviously there is a ton of other options for what you will have coming through the portal.
4x8 1/4 inch plywood from home depot. $21
4 1x3's $2 each $8 total
Mask $35
http://www.spirithalloween.com/product/ca-diablo-over-the-head-mask/?UTM_campaign=CSE:GOOG_PLA:RKG&adpos=1o1&creative=41754424066&device=c&matchtype=&network=g
hands. $10
World's #1 Halloween Costume Store - Spirithalloween.com
Mannequin Torso from Amazon. $25
http://www.amazon.com/gp/product/B00K97RUHU/ref=oh_aui_detailpage_o05_s00?ie=UTF8&psc=1
6 sets of red battery powered lights. 15 foot string, 50 lights. $8 or $48 for all
http://www.amazon.com/gp/product/B00WE1NOFQ/ref=oh_aui_detailpage_o01_s00?ie=UTF8&psc=1
8 sets of green battery powered lights. 15 foot string, 50 lights. 8$ or $64 for all
http://www.amazon.com/gp/product/B00WE1NOFQ/ref=oh_aui_detailpage_o01_s00?ie=UTF8&psc=1
I had a bunch of zombie lawn stakes laying around which I use as the hands for some of my props. I put one in the devils glove to fill it out. You can get them from Amazon for $8.
http://www.amazon.com/gp/product/B0097B6TAS/ref=oh_aui_detailpage_o03_s00?ie=UTF8&psc=1
1 can of red spray paint from Walmart. $4
1 can of black spray paint from Walmart. $1
12 cans of Great Stuff from Walmart. I stretched it but would have felt more comfortable with 1 or 2 more cans so 14 cans. $3 each, $42 total.
Water bottles from Acme for arms/legs. $3 for case
4 dollar store tupperware containers. $4
18 inches of flexible copper tubing for the tale.
Bones and skull for the border. I had a bunch lying around from Costco skeletons cut up from previous projects that I was trying to figure out what to do with. I have no idea where to get decent price bones from. You could use styro foam or other things for the border.
And that's about it. I hope this helps.
I had an idea for a prop which I started today. The outline for the idea is here.
Static: - Brainstorming an idea for halloween
Edited to add the completed picture.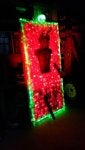 Edit to add a picture that gives a better explanation of what I am trying to do now that I have been working on it.
View attachment 242122
Basically I am using the idea that people have posted for making coals to create a portal of the devil coming from one dimension into this one. It will have his head, body, one arm, one leg and his tale coming through. I am posting the way I do it here and am hoping that it turns out the way I envision it. I will be working on it for a while and just started fleshing it out tonight.
I am currently working on part of the devil.
1. I used a styrofoam head to fill in the mask. I ordered a white mannequin form and applied a couple of coats of red spray paint. After the paint dried I added a light misting of black spray paint to get it to look close in color to the devils head.
In addition I start working on the portal. I decided to make it in the shape of a door. I am using 1/2 inch plywood cut to 78x38. I had my 8 year old son start painting it white tonight with outdoor paint. He is going to put a couple of coats on it over the next couple of days. I am going to frame the back with 1x3's to give the plywood some extra strength and rigidness as well as give me the ability to set some controls in the back.
I am framing the door with some old leg bones I had lying around. I am going to string lights through the bones so they glow at night. They will be a different color than the rest of the portal. The bones were not translucent so I sanded the outside of the bones down a bit to get rid of the outer coating and thin the walls a bit. I think that they will be translucent now but will not be sure until I get my next string of lights in the mail. You can get a general Idea of what I am doing with the devil though there is a lot of work left. Basically once I have all the pieces of the devil the way I want (I still need to make an arm, the tail, a quad, and a lower leg with a cloven hoof) I will attach them to the plywood. I will string lights all around the devil using the "coals" method and add good stuff. My hope is that it will look like the devil is coming from another dimension through the portal.
I will update the thread as the project progresses assuming I don't totally screw it up.