Discussion Starter
•
#1
•
Hello All - I thought I would go ahead and post some pics of my skeleton horse project. My brother made me a full-size, horse-drawn hearse last year and now we need a horse to go along with it. I have done a lot of research on here (the advice is fabulous) and I am trying to make a horse similar to a couple others that people have done. I am going with a plywood core, with pink insulation foam on top for the legs. I am going to carve the foam like other folks have done and hopefully it will turn out ok. I don't have the skill level I have seen on here but the people who are going to be seeing my horse won't have seen the other ones so it should be ok.
I started out with this skull that I found on Craigslist. The woman who I bought it from gave me a discount because it has a bullet hole on the top. I thought that actually added to its value and bought it. She told me the horse's real name was Bessie, so we are going to stick with that.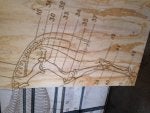 I found an image of a horse skeleton on the internet (and believe me, it was a lot harder than I thought it would be. I wanted one that didn't have too much detail so it wouldn't be so hard to cut out and then I also needed one with the proper leg placement. Plus, some of the skeleton drawings were just not very well done.) So, I finally found one I liked and had it transferred onto a transparency so I could use my overhead projector (purchased at a thrift store just for this project) and project it onto my plywood so I could trace the design. We (I say "We" because my husband kindly helped me with this part even though he thinks that I and the rest of my hearse-building family are nuts!) cut the legs out with a saw. You might notice that I added the full size hoof onto the image. I just didn't like the coffin bone look and didn't want to have to mess with trying to come up with forming something else later so I just drew on the full size hoof. Hope it turns out ok but so far I like it.
Next I drew the leg patterns (8 of them) (2 of each leg) onto the pink foam insulation. I bought some rather thick insulation (I think it is 2"). I wanted the bones to be substantial. We also used 3/4" plywood. I am hoping that the legs will be able to support the horse without me having to stake it. My husband does steel fabricating so I figure we can add some weigh to it if we need to and we can counterbalance the head if necessary also. Those skulls are heavy!
I cut out the foam with a Foam Factory Hot Wire Hot Knife that I got at a hobby store (the kind that sells model trains). This cost about $35 and worked pretty well but it was super slow and you can't push it, you have to be patient. I saw on here that some people had the industrial version of this knife which I would have loved but at $299.00 I couldn't justify it (or afford it) for this project. The knife I used did make nice, clean cuts and was easy to use, so I would recommend it.
I just glued up the 3 piece legs (2 pieces of foam with the plywood sandwiched in between) last night. I used PL 300 Foamboard adhesive by Loctite for the glue. It comes in a caulk tube. If you are doing one of these projects, be careful what kind of glue you get. Be sure it is something you can use on foam because some of the adhesives can melt or burn the foam.
I am hoping today to get the seams filled with the spray foam to fill in the gaps. I bought some Great Stuff - we'll see how that works. Will update this post as I make progress. Really need to get this done in a week or so - I have to get my decorating done for my party! Sorry for the sideways pics - I am an idiot and don't know how to turn them around. Sigh...