Discussion Starter
•
#1
•
Sorry all, I could not figure out how to rotate the pics.
This year, my wife challenged me to create a theme based on a swamp or bayou.
I started with some old fence panels turned on their side and attached. I added a porch of pallets and cut one pallet in half to create a dock.
The swamp shack was mostly done at this point. We found some driftwood tree trunks and I managed to load them into the truck at the expense of one of my vertebrae.
A hunter friend provided a boar's skull to top off one of the tree trunks. Mylar provides the water effect.
I mounted a projector in the rear of the shack and shot a video through plastic sheeting in the door. This was a ghost dvd from atmosfearfx. Hard to see in the background.. but it was impressive to the kiddies.
The full effect:
We also had an old codger mask so propped him up in the window.
That was the main decoration. The other side of our yard had the spider I built last year. Hard to see here. I used color changing phillips hue lights for the eyes.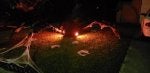 We had just over 1,000 kids come by, a few less than last year. Gave out over 1200 pieces of candy, one piece per kid, but gave out about 200 of them by the handful near the end of the evening.
Can't wait to hear what the wifey wants for next year's theme.