Discussion Starter
·
#1
·
Started on a series of Halloween inspired vintage Sideshow exhibits out of antique parts and pieces (right down to old rusty nails and slot screws). I have an Art installment in Jan. but they will make their first debut at my Halloween party (sideshow inspired of course)
I started with an old Underwood Typewriter crate I had in the yard. (resized for my purposes)
All the fresh cuts in the wood where given a heavy dose of a vinegar and steel wool solution.
The cut edge of the topper above was the same color as the fresh cut piece of wood beside it before treatment.
The part of the crate I used for the topper upon close inspection reads "New York and in all principal cites"
Found this 1960's repo of an old cat house token which inspired the name/theme.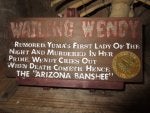 Every good side show exhibit needs some advertising. My process for old and creepy banners.....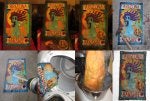 1. Paint/sew/grommet
2. Flat black spray paint
3. Sew patches
4. My favorite, beat with hammer
5. It gets the hose
6. Dry
7. Stain with tea (10+ tea bags per litre)
8. Sit back and admire your ratty, dirty mess.
The old medical mount skeleton came out of an old Odd fellows lodge years ago and between you and me, it didn't come cheap. (Don't tell the wife)
The light was actually an old porch light (turned upside down) that I removed from the last home I renovated and the candle lights I've had for years. I'm always looking for more of these 1 piece bulbs but these are the only ones I've ever come across that don't have a cardboard tube and separate bulb.
I gutted one of those cupboard screamers and hid the light sensor in the base of the exhibit. Now with a well placed beam of light Wendy screams as the viewer walks away. (When they stop blocking the light) You can see the video here.
http://vid148.photobucket.com/albums/s7/icyuodd/icyuodd001/MVI_9478_zpskmi0jorq.mp4
Managed to find some old cast iron legs online and that was pretty much all I needed to finish this project off right
And with that it's time to move on to the next. Milo Swim, the Gilled Midget. Hope ya enjoyed my little sideshow build. Happy haunting!