Discussion Starter
•
#1
•
So, I finally decided to pull the trigger and have a Halloween party. I've always wanted to, but I live alone and am self conscious about the cleanliness of my house. I decided "life's too short [redacted] it!"
I'm a huge Batman fan both metaphorically and literally (too many carbs) so I decided on Arkham Asylum for the criminally insane as my theme.
I don't particularly want people going into the bedrooms so I decided that I would keep the doors closed and decorate the doors to look like cells. I have five doors (including closets) so each can be the cell of a major Batman villain.
My plan for the doors is three parts. The simplest part is a room number which will be stick on numbers from the craft store. The really cool part will be a fake bared window. I plan to put a picture of various Villains matted in to a padded cell back drop.
The third item is where I decided to start. Cells would obviously need locks!! none of the doors in questions have locks. I decided to make a fake lock to attach (temporarily) right below the handle to look like an old antique lock. You have to start some where...
After making some sketches and deciding on a design I started construction. I made a master out of wood and polystyrene. Then I made a mold so I could cast enough for all the doors. Here are photos of the stages of construction...
Wooden Master
Test fitting the master
Resin cast
Finished lock plates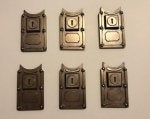 Finished Test Fit