Discussion Starter
·
#1
·
I say "another" because I figure there will be a LOT of Suicide Squad Harley Quinn costumes this year.
My wife is wanting to do one so I'm helping her out.
I made this bat for her last night. The photo is TERRIBLE but you can see comparison between the prop I made and the movie used prop.
She has everything else for the most part. I just need to try to make the shoulder holster and at least the handle of her gun in the holster for the look if not the whole gun (probably of foam)
I was able to find a decent version of it on Etsy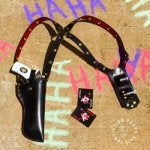 Have to see how accurate it is but shouldn't be too tough to put together.
Then need to make a pair of these bracelets... wish I could find the metal letters close by but i'll probably have to settle for wood, hot glue and spray paint.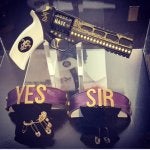 Last but not least I figure I can use some colored duct tape or fabric paint to do one of these gloves...