Discussion Starter
•
#1
•
I made these tentacles to go with my pirate ship. The actual tentacle is based loosely on a design by
"Torgo"
. I loved his idea. So I took it and made a few changes so they would work better for my needs, and then used a shiatsu massager to animate them. I made four of them. There will be 2 on each side of my sunkin pirate ship. The video only shows 2 for my convenience. And I have seaweed that will cover the massager units during the actual display. Maybe after Halloween I will try to remember to post video of the whole prop in action.
Finished tentacle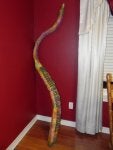 Assembly of pool noodles

Adding the latex over the nylon stocking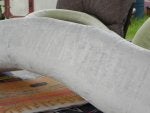 Video of prop in action
2015 update: I am adding more info as I am still getting requests for more info 3 yrs later. I thought I did a tutorial on this but cannot find it. To shape the tentacles I cut wedges in the noodle on the side in which I wanted them to bend. Bent the noodle until the wedge was closed and used masking tape to hold it in place.
To keep the tentacle on the shiatsu post I inserted a piece of PVC into the bottom of the noodle. It is about a foot long and the diameter is just slightly larger than the post. Installing the plumbers tape to hold the tentacles to the shiatsu is strictly trial and error.