Discussion Starter
·
#1
·
Here is the reason it took me so long to finish my Pumpkinrot. I kept trying to think of a way to make a full size prop that would realistically crawl across the yard. After finally finding the right parts and MANY hours of labor I am well pleased with the result: my Animated Crawling Skeleton !!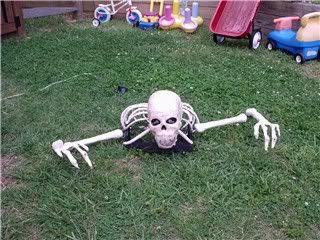 Here is a pic of the basic MOTOR and linkage assembly: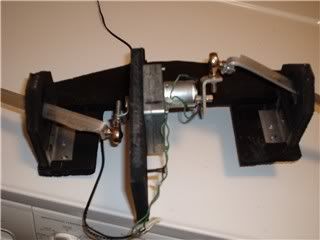 I found a dual shafted 6 RPM DC gear motor from Surplus Center. They also had the swivel ball joints I needed to attach to both motor shafts to make the arms move like I wanted.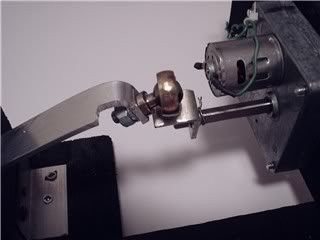 The motion of it working is basically like rowing a boat. I attached the left arm ball joint to the motor shaft 180 degrees from the right arm ball joint to make it crawl one arm at a time.
The right arm assembly rotates clockwise, so as the arm rotates around and hits the ground the gear motor continues to turn and lifts the body up and forward (turning it slightly to the left) as the arm keeps rotating then sets it back down on the ground again. Immediately after that the left arm assembly (which is rotating counter-clockwise) is just hitting the ground to lift the left side of the body up and forward (turning it slightly to the right), then setting it down on the ground again and it all starts over again. This motion makes it look like it is really crawling and also keeps it going in a straight line.
At 6 RPM it travels roughly two and a half to three feet per minute in the yard.

I wanted to try making another one, but make it faster if I could find the right motor. I have since found that Surplus Center no longer has the 6 RPM, but now has in stock the same dual-shafted motor in an 18 RPM version. I think this one would work better being quite a bit faster. That should make it move about 9 feet per minute.
http://www.surpluscenter.com/item.asp?UID=2005051318292626&item=5-1562&catname=electric
This is the swivel ball joints I used:
http://www.surpluscenter.com/item.asp?UID=2005052419423336&item=1-2292&catname=misc
I have since found they are now out of stock, but I think these others should work:
http://www.surpluscenter.com/item.asp?UID=2005052419423336&item=1-2293-R&catname=misc

If you think you will have any interest in building one of these you might want to order the motor now, because Surplus Center can sell out of something and not replenish it.
I plan to use one of the wireless keychain remotes from Lowe's to turn it on and off. (If they sell them with the Xmas stuff again.) What I like about them is you can buy several for the same frequency and have them all activate from a single remote switch. The ULTIMATE would be to make 3,4,5 of these crawling things power up simultaneously. Make your own Army of Darkness on the lawn!! That would be a sight !!
The cost in materials was about $45.00 and I don't want to even guess how many hours of labor.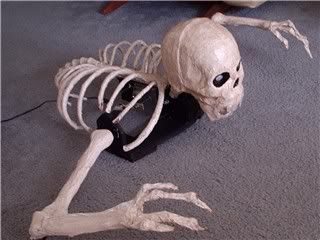 Here is a link to my complete album of pictures:
http://photobucket.com/albums/v630/DaveNTracy/Crawling Skeleton/

I will be glad to help anybody who wants to try making one.