·
Typical Ghoul Next Door
Discussion Starter
·
#1
·
I love the "Beloved" tombstones, but they are too large for my small graveyard.

I found a GREAT angel garden statue at Big Lots, and got the idea of putting her with a tombstone... and decided to make my own version of the Beloved stone, but with the garden statue instead of the almost full-sized figure...

Here is the statue in position with the stone I've just carved. I still need to carve a base (it's going to be two level stairstepped with the angel snugged into the base to look like one complete piece), but I think it's going to look really good!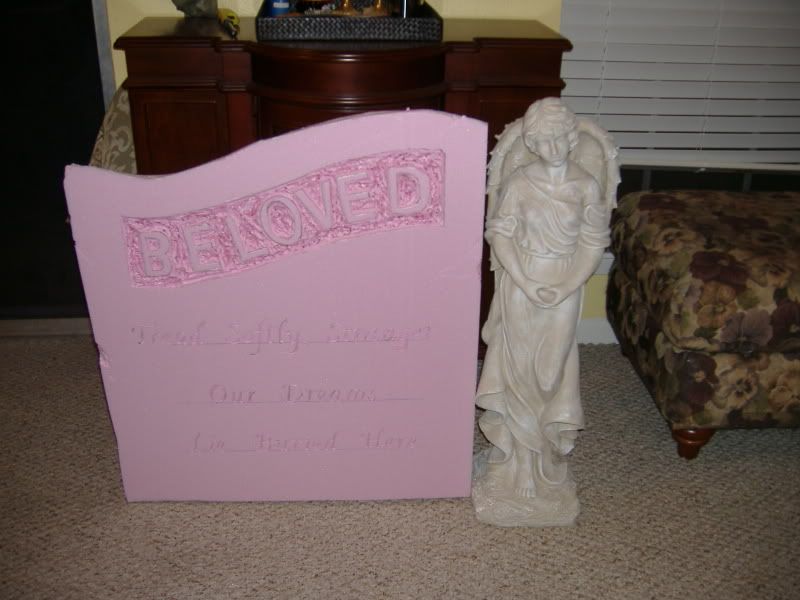 If you can't read the smaller text it is this:

Tread softly, stranger
Our dreams
Lie buried here

It is from an authentic stone from a small cemetery in Kentucky - I found the place during my childhood rambles, and that stone's epitaph has stuck with me all these years... and I find it funny that my bizarre love of graveyards and stones has finally found an outlet!

I'm going to paint the stone up to match the creamy white color of the angel, and then put lichen green into the recessed areas - I like the idea of having a differently colored stone than the usual grey and the angel is quite marble-like without any paint at all...