Discussion Starter
•
#1
•
This Tutorial is still a work in progress But i hope everyone enjoys this. I haven't done a Tutorial before. As I work on it I will post more photos and updates. Until then Enjoy my Angel of Death.
I started this the same way i did the Monster Mud Reaper. A 2x2 piece of plywood with a 1 1/2" Flange and 4" long steel pipe with 1 1/2" PVC pipe.
After I got the angel to the height I wanted I cut out some pieces at the top for the spine to slip into
After this was done I removed the arms so I could adjust them to where I wanted them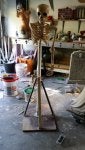 I put holes in the arm for wire (but ended up using screws to secure it in place later)
After the arms were off and out of the way I contemplated on how to later attach the wings and came up with a simple idea. More flanges!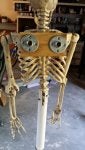 The screws were put through on BOTH sides so they would be secured in both directions. it worked out well.
After i reattached the arms I started making the hands articulate so they could hold stuff and point.
I did basically the same thing to the elbow after removing a part of the inner plastic so i could move the arms inward better
I took time here to play with how i wanted the fabric to drape and hold the staff and at the same time tried to figure out how I wanted the wings to go. I spent over a week debating just how to do the wings....
After i chose the wing position I started to "fill in" the wing with tape. This gave me a few advantages such as having a skeleton to work with (no pun intended) for how to lay down the foam later.
I also put screws into the wings to help hold the shape securely.
I made sure the wings are detachable for storage and for easy building. It can be easily screwed in place and removed again if needed.
More photos will be posted later. I could not find a great tutorial of how to build wings that didn't use nylon and feathers...I hope people enjoy this and can find something to take away. =)